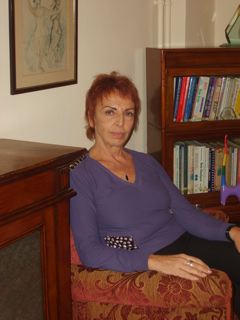 Issues relating to gender, conflict resolution and, particularly, women mediators, were the topics of a telesalon organized by Elizabeth Bader with speakers Leyla Navaro, M.A., and Sharan L. Schwartzberg, Ed. D.
After the conference, Leyla Navaro, M.A., was kind enough to share the notes she had prepared for her own presentation. She has also graciously allowed us to share them here.
Bio of Leyla Navaro
Leyla Navaro, M.A., is a psychotherapist, group leader and psychotherapist, clinic director, author, educator and trainer.
She is the founder of a psychotherapy and group therapy clinic in Istanbul, Turkey, where she still practices today.  In addition to directing her clinic, she works as a psychotherapist and group therapist and conducts several therapy, and psycho-educational groups.  She also presents her work regularly in the USA, Israel and Europe.
She is Adjunct Faculty and Supervisor at BUREM, the Psychological Counseling Center of Bogazici University in Istanbul.
She has also published several books on gender issues.  Her publications in English are:
Leyla Navaro, Robi Friedman and Sharan Schwartzberg. (Eds).  Desire, Passion & Gender: Clinical Implications (Nova Science Publishers, New York, 2011).  The Table of Contents for this unusual book is reproduced at the end of this post.
Leyla Navaro and Sharan Schwartzberg (Eds). Envy, Competition and Gender, Theory, Clinical Applications and Group Work  (Brunner-Routledge 2007).
Notes from Leyla Navaro:

 What Stops Women From Showing Up?
This important question is the first topic analyzed in the notes.   Leyla Navaro's comments are as follows:
 
√ to be modest is an appreciated feminine trait, appreciated by both men and women.  Modesty is still an asset for women no matter what her status is, whereas modesty can be a burden for men.  Thus men learn to overcome their modesty;  they learn to show up and strongly hold to their visibility as position and status.
√ visibility: appearance. Until now, women's socially accepted visibility has generally been through their looks and appearance. A successful woman has to keep up with her appearance as well. A man's visibility is not necessarily parallel with his appearance.
 √ visibility: capacity and success: a woman's success through her assets and capacity is well received both by men and most women.  However, most women still suffer from internal inhibitions which prevent them from fully enjoying their success and their social visibility.
√ women didn't learn to win and savor its success:  men learn from a young age to be in win/lose games and are trained in winning or losing.  They don't necessarily feel guilt towards the loser and don't try to empathize with the loser's feelings.  Empathizing and feeling guilt towards the loser are serious handicaps for women in win/lose games.
√ women are afraid of competition: showing up invites aggression and competitiveness and women are not well prepared, unlike most men, to address or measure up to aggression and harsh competitiveness, be it their own felt aggression or aggression and competitiveness coming from others.
√ women avoid showing up in competitive situations, thus opt to not use their full potential.
 √ women prefer to play lose/lose instead of win/lose because they don't want to comply with the consequent feelings of winning (guilt, empathy for loser, fear of retaliation, fear of success).
 √ women resent other women who opt to show up and win.  Their usual punishment is ostracization and gossiping against her.  Most women fear this female resentment/punishment, thus avoid showing up and being successful for the sake of preserving relationships.
√ relationships and connections are more important to women than success or showing up.  By contrast men have been trained for success and show up as part of their malehood. And opt more easily for success and showing up instead of connection and relationship.
√ "too much": those women who assert themselves or can be competitive or aggressive openly are considered "too much" both by men and women.  This is a superlative used pejoratively only for women.  A man is never "too competitive, too intelligent, too strong". i.e. Hillary Clinton, Condolezza Rice.
 √ there's still a lack of positive role models for women:  successful women mediators, successful lawyers, elicit a lot of respect and women are advantaged in the sense that public opinion is used to successful men but nowadays when a woman is righteously successful, she elicits admiration and respect, thus she's better seen and brought into spotlight.
 √ healthy entitlement: as compared to most men, women have not learned to enjoy healthy entitlement to life assets, i.e. to enjoy and take in admiration, love, success, advancement, etc.
 Mediation and Gender
The notes begin by noting the considerable advantages women may have as mediators.  In realistic fashion, however, some of the challenges are also discussed:
√ mediation requires EMPATHY,  CREATIVITY and good skills in CONNECTION and RELATIONALITY.  Those are assets acquired mostly by women from young age on.  Therefore women are actually more advantaged in their acquired skills to work in mediating roles.  However, because of the above, that is lack of self-confidence, lack of assertion and self-doubt, women may fail to use their skills in an effective way, consequently losing their convincing power.
√ mediation requires taking and keeping a good distance with both parties.  Until now, male development emphasized men learning to keep a good distance with emotional or conflictual issues.  This works usually in favor of male mediators.  Moreover, both as men and women, we've learned that mothers are more emotionally involved as compared to fathers; therefore we may have our own prejudices with regard to male or female mediators.  Those prejudices may affect the mediating process re: the gender of the mediator, that is, because of gender prejudices a male mediator may inspire better confidence than a female one and conflicting parties may be either defensive, prejudiced or feel open to mediation depending on their own prejudices regarding the gender of the mediator.
 √ mediation deals directly with win/lose and power-over games which men are better acquainted with and better skilled.  Women's usual approach to win/lose is rather win/win and power-with methods which are quite applicable to mediation.  But women's lack of skills in win/lose and power-over approaches may make them more vulnerable and less effective in those fields.
__________________________
Table of Contents:  Desire, Passion & Gender: Clinical Implications, by Leyla Navaro (Boðaziçi University, Istanbul, Turkey ) Robi Friedman (Haifa University, Haifa, Israel), Sharan L. Schwartzberg (Tufts University, Boston, MA, USA)(Eds) (Nova Science Publishers, New York, 2011).
Preface pp. i-xxvii
(Leyla Navaro, Robi Friedman and Sharan L. Schwartzberg)
Foreword
(Stephen Frosh)
Acknowledgments
Introduction and Review of the Literature
(Robi Friedman, Leyla Navaro, Sharan L. Schwartzberg)
Part I. Gender Dynamics in Desire and Passion
Introduction to Part 1, pp. 1-4
(Sharan L. Schwartzberg, Vanessa Vega)
1. The Jewish Groom and the Broken Glass: Men's Transformations of Passion, pp. 5-18
(Avi Berman)
2. Gendered Desires: The Troubles of Good Women with Bad Feelings, pp. 19-35
(Miriam Berger)
3. Emotional Conflicts of "New Men": A Case-Study About Passion and Desire in a Men's Group, pp. 37-45
(Holger Brandes)
4. The Passion of the 'Bad Girls': Women's Struggles with Desire and Passion, pp. 47-60
(Leyla Navaro)
Part II. Mythic Representations: Gendered Expression of Passion and Desire
Introduction to Part II, pp. 63-64
(Sharan L. Schwartzberg, Vanessa Vega)
5. Desire Leading to Death: They Myth of Echo and Narcissus; Narcissus and Echo: Vision and Hearing in Early Development and Some Applications to Individual and Group Psychotherapy, pp. 65-79
(Malcolm Pines)
6. Is That All There is Between Desire and Passion, pp. 81-95
(Macario Giraldo)
7. The Interactive Dance Between Envy and Desire, pp. 97-116
(Michael Kaufman and Maria Ross)
Part III. Working with Desire in the Therapy Room
Introduction to Part III, pp. 119-120
(Sharan L. Schwartzberg and Vanessa Vega)
8. Uniting and Dividing the Genders: A Dialogue on Desire and Passion, pp. 121-137
(Robi Friedman)
9. "Enemies, Love Story:" Gender Differences in the Expression of Love, Hate and Desire, pp. 139-148
(Gila Ofer)
10. The Erotic Link as a Psychoanalytic Object: Its Inhibitions and Exhibitions, pp. 149-165
(Richard Billow)
Part IV. Culture and Values Affecting Desire and Passion
Introduction to Part IV, pp. 169-170
(Sharan L. Schwartzberg, Vanessa Vega)
11. The (Un)veiled Desire – A Look into the Mirror, pp. 171-184
(Regine Scholz)
12. Psychodynamics of Passion for Justice and Desire for Revenge, pp. 185-199
(Maria van Noort)
Conclusion and Therapeutic Implications, pp. 201-219
(Leyla Navaro, Robi Friedman, Sharan L. Schwartzberg)